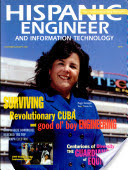 MAGGIE DOMINGUEZ enrolled in the University of South Florida and studied engineering, a rarity for women in 1972.
She doesn't remember female classmates, but a favorite thermodynamics professor would encourage her by calling out, "Let's let Billie Jean King answer that one," a reference to her trailblazing status.
After graduation, she took a job with Tampa Electric–the first female engineer to be employed. In all, she held 11 different job titles before being promoted to vice president of technology and support services in February 2001.
The retired vice president, Technology and Support Services Company, Tampa Electric Co. was a 13-year-old in 1964, when her family moved to Florida from Cuba.